Here are two very popular items for all driving instructors and students. ADI driving instructors badge holder and Blind Spot Mirrors
ADI driving instructors badge holder.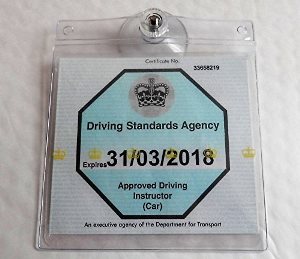 No need for glue or ant other adhesives. When not needed leaves window clean with no residue.
Clear and strong plastic wallet. Will last years! Looks professional and tidy. Gives that extra touch of care and presentation. Approximately  100 mm deep 105 mm wide. Nice sized. Multi-purpose and will stick to any glass or smooth surface
Flexibility to remove and re-use and reposition.
Flexibility to remove and re-use and reposition. Being a vacuum  suction cup with design (not self-adhesive) it means can be regularly removed or repositioned. Not permanent.  Once purchased can just be swapped to your replacement vehicle and kept for years. Should you temporary use another car, take this badge holder along. The suction cup has a nice stainless steel insert with a thumb friendly screw.  A nice neat aid. Taking the pride of professionalism a step further. Clear Plastic ADI Driving Instructor Badge Holder; Self Adhesive Backed for easy application to the windscreen. One piece fixes to your windscreen and the second to your I.D. document.
Blind Spot Mirrors Round Shape Wide Angle Car for better views.
An excellent aid and assistant during the reverse parking exercise.
The wing mirrors are limited to very narrow angel of vision of vehicles and obstacles on the side.  This is why these inexpensive, high quality little mirrors are so crucial to have any driver. They increase significantly the view of the situation on the sides of the vehicle, thus reducing the blind spots. In fact almost three times larger than without them. That in itself is worthy of having them. They take just a few minutes to put on.
This extra view will greatly assist and reassure the learner driver.
How much safer does this make the driver feel? This extra view will greatly assist and reassure the driver when carrying out manoeuvres such as changing lanes, passing parked cars, turning left and right and merging.  During the manoeuvres like reverse parking, reverse bay parking, reverse corners and three point turns this will enhance safety for everyone.  An excellent aid during the reverse bay parking exercise with those narrow lanes. Avoids those dreaded tricky blind spots where we just cannot see the white lane markings.
Expand the all-round view. That is 360 degrees.
These round mirrors have extra strong adhesive that leave the mirror in place in all weather . Once applied, you may assume they cannot be  re-adjusted. The great part of these well designed mirrors is that they so simple to fix. This super strength makes them withstand all weather driving, with never the apprehension they will fall off. These mirrors are made of sturdy premium quality materials. Ensuring they last for years. The convex mirrors are at a wide ankle of 150r all round. That is 360 degrees. Expand the view all round for everyone's safety. Such great benefits comes with just a mirror of 50mm diameter.
ADI and PDI Essentials and resources.
Blind spot mirrors are great to assist you and your pupil with manoeuvres. These pockets are very durable and can be used on both sides. Fixture For Secure Fitting (Includes Fixtures) Mounts On Top Of Existing Wing Mirror Fully Adjustable Perfect For Driving Instructors
Fits all cars, brand new, suitable for exterior use and posted quickly.
For other interesting 10 best aids for learning to drive and for ADI's
This may be of interest to you Phone Holder and Non Stick Mat for ADI's.
Other articles of interest.  Driving items that may interest you..