The Professional Driving Instructors Progress Reports  has been purposely developed for the benefit of both the instructor and the student. The sections and layout within this book have been carefully organised to make maximum use of each lesson and record information meticulously. It leaves behind a trail of every students achievement along with their learning journey.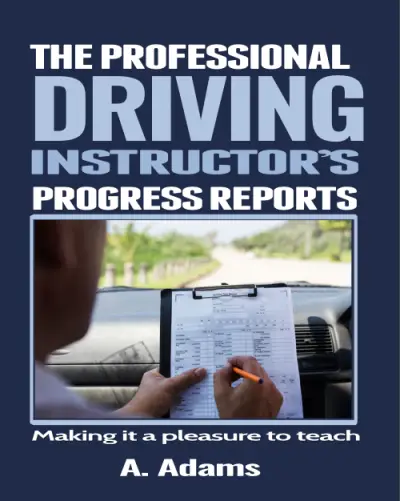 ADI's, HGV instructors, motorcycle instructors use this extensively.
The Professional Driving Instructors Progress Reports have been designed to be used unanimously by ADI's, HGV instructors, motorcycle instructors and any other vehicle teacher who may find it beneficial. It includes all the DSA DL25C topics. It will greatly improve the confidence of students and improve the teaching methods.
Click here to go to amazon.co.uk
Preparing candidates for all elements of safe driving
As an ADI tutor the role includes preparing candidates for all elements of safe driving and that of the test. The Professional Driving Instructors Progress Reports helps to organise preparation for lessons. Students cover all aspects of safe driving before the  takes the test.
Large "A4" to give maximum space
The Professional Driving Instructors Progress Reports itself is A4 large to give maximum space per page for the instructor without it being a hindrance whilst teaching or uncomfortable to handle. It is preferable as it is compact so one book is needed for many students rather than having separate cards for each student. Avoids misplacing the records!
It is a soft-back book and lightweight, perfect for instructors to carry with them. It has space for 25 students and recordings for 20 lessons each making a total of 500 lessons!
Grading system makes this book so quick, easy and convenient to use
The concise topics along with the grading system make this book so quick, easy and convenient to use. It takes a few seconds to mark a wide range of skills. One manoeuvre may also cover a range of boxes so the student is aware of every small detail of their driving. This manner of recording gets the student habitual to the driving test "mind-set".
Use the book to recap at beginning and evaluate at the end
Using this book before lessons to review the previous lessons progress, during the lesson and after the lesson to summarise gives an image of professionalism to the student. They will feel the concern of the instructor for their improvement and will be assured that the instructor is being consistent and teaching them skills that need improvement. The progress from lesson to lesson is visible and this builds confidence within the student that they are improving and progressing.
At the start of the lesson, the instructor and student can go over the previous lessons and recap regardless as to whether that lesson was a day ago or a month ago. The student can physically see what was done, what needs to be done and what is to be done. This means that nothing is left to memory and assumption and neither are skills that are perfected repeated. It relieves the instructor of having to remember so much for so many students.
Quick glance to theory tests and practical driving test results
This book also allows the instructor to record dates of theory tests and practical tests and to make any amendments for these. This book makes that easy to see and record. It has beautifully laid out sections just for that.
It is the perfect way to keep track of the student's general information and their lesson progress from their very first lesson until they pass their test!
The instructor will record the student's progress during the course of the lessons in a quick and easy manner and the student can acknowledge their improvement. The student will be made aware of what they are capable of, what they are working on and what needs to be done before the big day.
The Structure of 'The Professional Driving Instructors Progress Reports'
This book contains forms for:
STUDENT S PERSONAL DETAILS: Record the student's details. (and sight test)
THEORY TEST : Track students theoretical knowledge.
DRIVING TEST : Track students practical exams.
LESSONS
Record information for 20 lessons per page. Grade students progress every lesson on over 60 topics on a scale of 1 to 9. Extra space to add personal notes.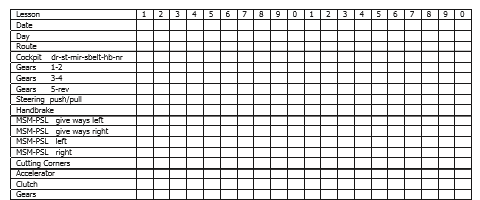 Structured driving lesson topics recorded.
The topics within this book have been thoroughly presented to ensure every skill has been covered. This will reassure the instructor that they have taught the student every skill needed for independent driving and the test. It will also put the student at ease and they are made aware of their targets and what they have covered and where work still needs to be put-in. The topics covered are as follows. N.B. These also have subtopics for concise and marking.
Gears
MSM
Use of pedals
Mirrors
Use of signals
Observations, control, accuracy
Traffic lights
Road markings
Roundabout
Speed
Test routes covered and Mock tests
Areas training took place.
The Grading System used 'The Professional Driving Instructors Progress Reports'
'The aim of the grading system is to have consistent '9's' in all the subtopics to prepare the student for independent driving.
Student's performance in each of the 60+ subtopics. The grade is on a scale from 1 to 9. This allows the instructor to remember the student's performance from the last lesson. They can also work on skills that need improving as well as noting the student's progression in each field, until the student is confident and ready for their test. It also allows students to be aware of what they need to improve on, whether some topics need persistent improvement and skills they have learnt well.
Driving Instructors grading system.
1 – Introduction to the topic, explanation, use of diagrams, fully dependent on instructor.
2 – Demonstration, student needs full talk through to carry out instructions.
3 – Manages with instructions, verbal help and physical intervention needed.
4 – Manages with instructions verbal help, little physical intervention.
5 – Managed with instructors help, no physical intervention.
6 – Manages with little verbal help.
7 – Manages without verbal help, quickly corrects self when asked .
8 – Understands the task, needs very little or no help.
9 – Very high standard, independent and self confident, no help needed. Test standard.
The art of professional driving instruction. From the simple to the complex.
A complete Professional Guide to Driver Instruction.
This book is a complete guide to progress reports for each student used by professional instructors. Nothing has been left out and every small detail has been included to ensure a holistic and wholesome approach to teaching. It can be used regardless of if you are teaching a student how to drive a car, a HGV or a motorbike!
Sure to impress your students and boost recommendations for you!
The student will also feel as though you are taking great concern in their learning experience and will recommend you to others. The Professional Driving Instructors Progress Reports will impress your students. The instructor will also find great joy and pleasure in teaching and will feel satisfied that they have done their best to provide a wonderful teaching experience. Get a copy of The Professional Driving Instructors Progress Reports .
This book is available from amazon.co.uk, amazon.com and other associates.
Other pages of interest 10 best learner driver and driving instructor books and aids.
Driving items that may interest you..