Roadcraft: The Police Driver and Rider Handbook is a great manual.
Roadcraft by the Police Foundation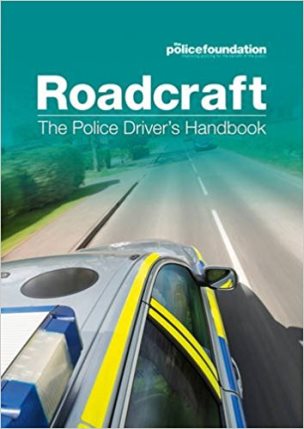 Roadcraft is produced by the Police Foundation and published by The Stationery Office. This very informative book was used and published by the Metropolitan Police Driving School at Hendon and intended for police drivers ONLY till mid 1950's. But since then,  it has been made available for sale to the general public. What a brilliant decision. Roadcraft: The Police Driver and Rider Handbook has so much more.
Roadcraft is recognised internationally as the 'Gold Standard' for driving.
This is a high level of car control taught and practiced by our police force! This unique and high performance manner of driving is adopted by driving organisations such as RoSPA and the Institute of Advanced Motorists (IAM). The IAM base their teaching and advanced motoring tests on this technique. Imagine, just a single "tip" when applied could save your or someone's else's life. That makes it all the worthwhile. This book will also teach you how to reduce motor vehicle running costs. (by learning how to use the vehicle economically and efficiently).  Roadcraft is recognised internationally as the 'gold standard' for driving. The pinnacle of excellent driving. Is there any more to say regarding the need to get it. The System is used whenever a hazard requires negotiating.
The five step system Roadcraft teachers.
What is a hazard? A hazard is something which requires a change in speed, direction or both.
It explains a unique system of car and motorcycle control. There are five phases represented by the acronym IPSGA:
1. Information received from the environment by observation, such as direction indicators, headlamp flashes, and horn; is a general theme throughout driving.
2. Position on the road heightened for safety, visibility and correct routing;
3. Speed appropriate to the hazard being approached, using explicit braking or engine braking, always being able to stop in the distance you can see to be clear;
4. Gear appropriate for maximum vehicle control ; and
5. Acceleration for clearing the hazard safely.
The benefit of applying a methodical approach to driving is to reduce the instantaneous demands on the vehicle, the driver mentally and the driver physically.
Example of application. Braking and steering at the same time place greater demands on the vehicle's available grip and in the worst situation can lead to a dangerous skid.
It has amazing full colour diagrams and illustrations.
The book has amazing full colour diagrams and illustrations that so clearly and plainly explain important principles and practises. Summarises  things we may never thought of.  It tries to combat the greatest cause of collisions, human error. The commonest of these errors are failure to look at the correct place at the correct time, speed judgement and loss of car control. Part of driving is confidence and our state of mind, and we are taught how to adjust it and manage its influence. It makes us understand our own limitations.
Roadcraft: The Police Driver and Rider Handbook
Roadcraft: The Police Driver's Handbook and Motorcycle Roadcraft: The Police Rider's Handbook are recognised as the definitive guides for better, safer driving. Roadcraft is the official Police Driver's Handbook, approved by the Police Foundation. It is an essential book not just for police drivers but for anyone who wants to become a competent and safe driver.  Roadcraft represents the gold standard in police driver and rider training. This book is not just for Advanced Police drivers but for everyone who has a keen interest safe driving.
Fully revised and updated.
Other books of interest, 10 best learner driver and driving instructor books and aids.
Other articles of interest. Driving items that may interest you..