Official DVSA Complete Learner Pack DVD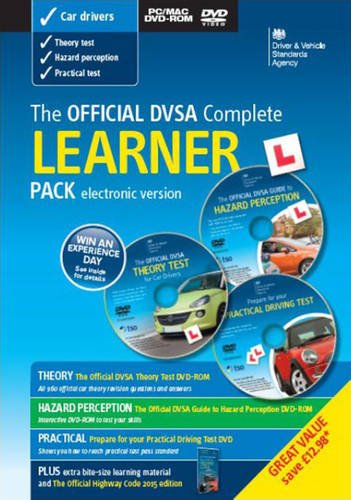 The easiest way to pass the driving test is to read and learn, and there after practice. . This is precisely what this set does! In this pack, all the necessary three items are included. 1) The theory test cd, , 2) The Hazard Perception test and how to prep[are for it, and 3)  The driving practical test aids. This set is prepared by the people who actually test. So feel assured with it. You are getting the unique and the best of the best! It is created with easy to comprehend explanations and high quality clips and photos.
Easy to study for any level of understanding.
The Official DVSA Complete Learner Pack DVD has a progress tracker as you progress mastering your knowledge and ability.  This official DSA pack provides everything you need to prepare for both your theory and practical tests. As a enthusiastic learner, you will be needing all of these to get the freedom and responsibility  to use the roads. By combining the three, the DVSA has made it easily acceptable to all learners and is great value for money.
Has everything you need to pass both parts of the test.
The pack is updated and comprises all you will need to pass the theory test. a) It has the multiple questions and mock tests. The multiple question is choosing the correct answer from a choice of 4. Giving you a real taste of the real thing. With practise and dedication, passing the theory test will be quick and fun and extremely educational! No need to keep resitting the test. b) The pack has the Hazard perception test too. The intimidating section of the test is made friendly with the clips. With practise, you will begin to enjoy this part. Amazing clips to test you and understand what to anticipate. c) The third part is passing the practical driving test. Everything you would need to "do away" with those  red "L" plates! With this set and with you practicing, you'll pass with flying colours.
As a special "bonus" for those opting this pack.
As a special "bonus", The  Official DVSA Complete Learner Pack DVD includes the complete "Official" Highway code. This is vital not only for learner divers but for everyone.
So there you have it!
The Official DVSA Guide to Hazard perception.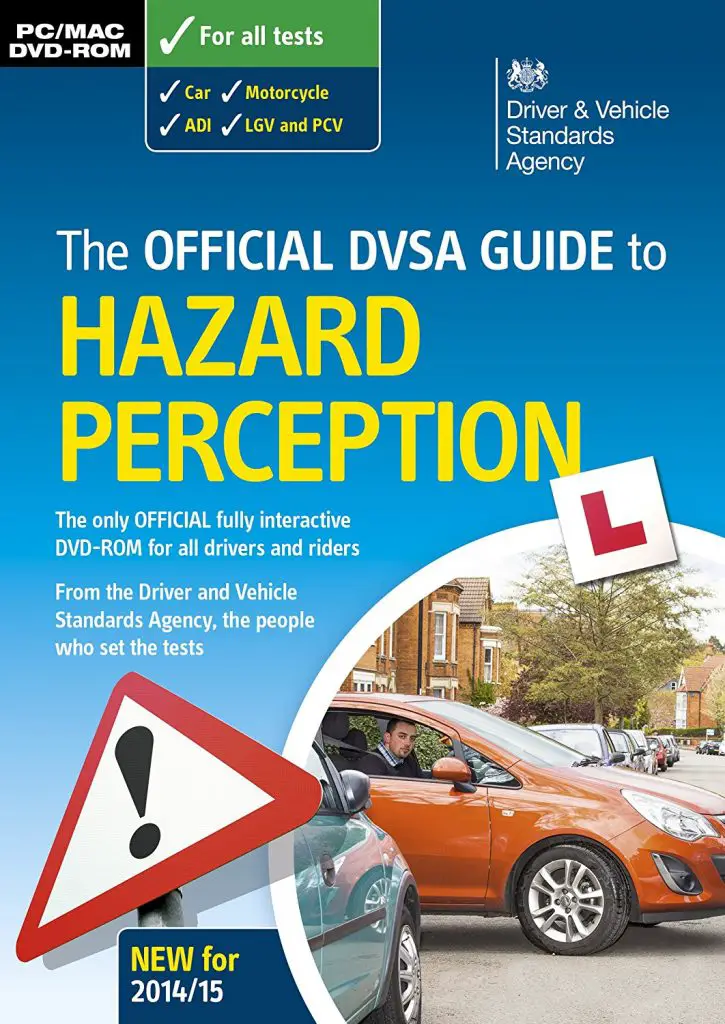 What is hazard perception? The ability to  forestall a possible risk or harm. It involves taking as much information around and understanding it correctly. It's the skill of skimming the situation and being prepared to react correctly.
Learning how to predict hazards.
For example.  A pedestrian waiting at a crossing may not walk out, but are you prepared if they did? How would you react if they DID walk out? Have you planned that? Another example. Are you prepared to adjust your driving if whilst emerging, you see a car with left indicators who did not actually turn left into your road? This is what Hazard perception is all about. Expecting the unexpected.
This is jam packed video has over 100 clips.
The DVSA has prepared this video which has over 100 clips. The clips are of high quality, well presented and are interactive. They are a very much like the real test. Put in the effort to practice and it will make you a better driver and passing this test will be a breeze!
You can track your progress and see your weak points.
The video has an amazing range and variety of clips. The DVSA has included a system whereby you can track your progress so encouraging you to complete the course. There is always ways to learn and progress our perception. Then passing the real test then will be easy. You'd have created the correct mind set to driving. A professional driver is one who drives anticipating  others error!. This is a must to pass the test.
Other books of interest, 10 best learner driver and driving instructor books and aids.
Other articles of interest.. Driving items that may interest you..