The right perfume can add to the character of a woman. There are plenty of perfumes and fragrances which can help you in adding a feminine touch to your personality. These two perfumes are well-known for class and quality. We start with Cerruti 1881 Femme Eau De Toilette.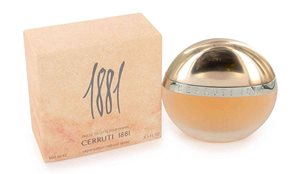 The very first thing which you would notice about this perfume is the exclusive and impressive design of the bottle. It is more of an oval pot rather than the usual form which you come across when it comes to perfume bottles. The perfume is based on the floral notes. Therefore, if you like and prefer the floral notes, you would definitely choose this perfume over the others. This particular fragrance was launched in 1995 and has been going pretty strong for over two decades. A great testimony to its appeal. The main reason for this is that it resembles the fragrance of fresh air as well as crisp linen. Along with it, it also consists of notes of sandalwood as well. A very unique blend of smell. Some of the other notes which are included are:
•Jasmine
•Freesia
Cerruti 1881 Femme Eau De Toilette can easily last for 5 to 6 hours.
The perfume might be a bit slower to settle down but once it settles down, you can be sure that it would be easily noticeable by the people around you. The perfume can easily last for 5 to 6 hours but if you're expecting it to last throughout the day, it would not meet your expectations in that case. It will need to be reapplied. The perfume is well recommended.
Pros:
•Floral perfume
•Easily noticeable and pleasant
•Unique and exceptional fragrance
Cons:
•Lasts for only 5 to 6 hours
If you're looking for a fragrance which would make heads turn, and make you get attention, this one is definitely the best option for you. It has a flirty fragrance which combines floral as well as other notes providing you with one of the best fragrances. You would no regret getting this fragrance. The notes of this fragrance include:
•Vanilla orchard
•Peach
•White Amber
•Bulgarian rose
•Coconut
•Bamboo
•Musk
•Apple
About this perfume is that it can easily last for a longer period of time.
As you might be able to smell the variety of different notes, it is a mixture and blend of floral fragrances as well as normal fresh and crisp perfumes. This ensures that you are able to get a unique and exclusive fragrance which cannot be mimicked, imitated  by any other perfume. The bottle itself has a nice and elegant feminine look in the form of a cat and is pretty easy to use. The best thing about this perfume is that it can easily last for a longer period of time which helps you go through your day without any kind of re-application. It is made to last!
Even though the bottle design is pretty unique but the bottle is delicate and therefore you have to make sure that you are handling the bottle with care. It is a joy to possess.
Pros:
•Unique notes
•Lasts for a longer period of time
•Unique portal design
Cons:
•Delicate bottle. Needs extra care to handle.
Some similar perfumes 10 best ladies perfumes and fragrances under £20
Similar perfumes  Roberto Cavalli Just Cavalli Women Eau de Toilette